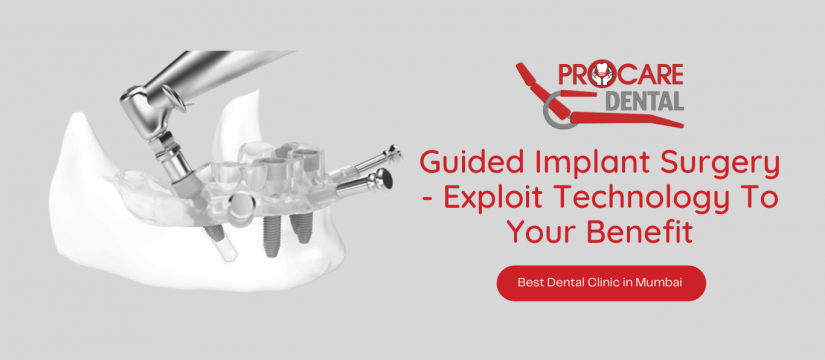 Guided implant surgery is a new and improved form of dental implant surgery. It involves using the patient's CT images to strategize the surgery with computer software. These technological advancements have improved the level of communication between the surgeon and restorative dentist.
What are your concerns when advised of Dental Implant Treatment?
Would the procedure be painful?
How much time would the procedure take?
Stitches? Post-surgical swelling, pain, discomfort?
What would be the predictability of the treatment?
What if we have positive answers to most of these doubts?
With a new powerful wave of Digital Technology, the Dental Implant technique has also evolved. Guided Implantology has made the replacement of teeth easy, predictable, and comfortable for the patient, as well as the
Visit 1
Diagnostic procedures
Digital Teeth Scanning
3D Bone Scanning (X-Ray/ CBCT

3D virtual Implant Planning and 3d Printing of an Implant Stent/Guide
Virtual Planning in 3 dimensions helps to exactly know the bone quantity and quality, also the implant size and position, also the position of the final teeth
3D Printing  has now been harnessed in this field to help mimic the virtual plan in the real world
Implant Stent/Guide helps to place the implants directly into the preplanned position without any cuts or much manipulation of the gums and hence reduces all peri and post-surgical discomfort/complications.
Visit 2
Implant Surgery with 3D printed Guide
Temporary teeth in the same visit
Visit 3
(After 3 Months): Final teeth
Benefits:  
 Minimal pain, bleeding
  No stitches
  Fast Healing
  Quick and predictable procedure
  Reliable outcome
  The very high success rate
  Immediate replacement of teeth is possible
  Virtual Plan understanding before the actual   procedure
What Patients say….
Mr. Sangani Ramesh (Sr. Operation Manager, Powai)
I went through both, Normal Implant surgery as well as Guided Implant Surgery.
Guided Implant Surgery needed Limited Visits to the Dentist (FYI, I stay in Powai and was traveling all the way from Powai to Mulund). Expected 3-4 visits max. The total time duration is expected to be much less.
No pain or swelling, even for a day. No bleeding issues and feeling much more normal than my last implant time.
Conclusion: I strongly recommend going for the Guided Implant which is expected to give better results with no hassle, much less time, and fewer Dentists Visits. It's like making use of technology to make the task much faster, without compromising on quality.
Mrs Shraddha Patil (Product Manager, Bandra)
I had presumed an implant surgery would take many sittings, and involve pain, swelling, significant bleeding, stitches and discomfort. However, the guided implant surgery that I underwent at Procare Dental, turned out quite different. It took me 3 precise visits. It was a pain and discomfort-free surgery. I was able to eat normally within just a few hours after the surgery. And the best part was that the results were excellent
Mr. Yogi Achyut (Ex. Deputy Mananger, Thane)
I have undergone implant surgery-6 Implants in the lower jaw. Subsequently undergone surgery for 6 implants in the upper jaw, it was guided implant surgery. Though I was 62 years old whilst undergoing surgery, it was painless, with hardly any swelling, or complications post-surgery. I could do my routine activities just after a gap of one day. It was a very amazing experience.