The fact that you can recognize Deepika or Farhan by their smiles alone tells you how important a role your smile plays as a part of your personality. Self Confidence, Social Interaction, Social Popularity all are affected by your smile.
They say, you aren't completely dressed until you wear a smile at Procare dental clinic. You have a chance to enhance your smile with our team of dedicated surgeons at our cosmetic dentistry in Mumbai
At Procare dental clinic we not only address the aesthetic factor but while achieving that we also ensure proper functionality and most importantly the longevity of the treatment. With a wide variety of treatment options available our expertise helps you to choose the best possible option personalized according to your needs. We specialize in smile design procedures, including teeth whitening, fillings, veneers, crowns, and orthodontic treatment. In short a variety of procedures to give you a stunning smile all under one roof.
Treatment options of cosmetic dentistry in Mumbai
Dental Scaling and Polishing
Staining of your teeth may happen due to the extrinsic factors like tea, coffee, smoking, etc. or tar (calculus) on and around your teeth, they might appear discoloured. This kind of discoloration can be simply managed by professional cleaning also called dental scaling followed by polishing. This kind of tar can give rise to a lot of gum diseases with signs like bleeding during brushing, bad odour, exposed roots, sensitivity or mobility of the teeth; thus regular professional cleaning is necessary every 6 months.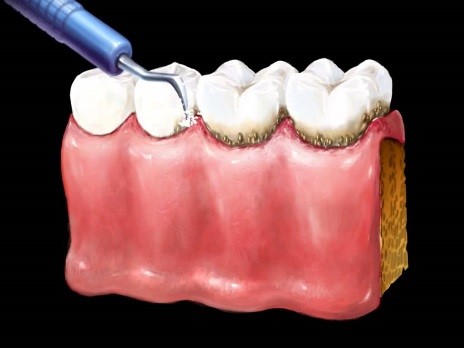 Teeth Whitening in Mumbai
Most often people with discoloured teeth find it highly uncomfortable to smile in social events. So, for the stains that don't vanish by scaling (intrinsic stains), teeth whitening is the right treatment of choice as the shade can be changed to one or two levels whiter.
Types of Cosmetic Dentistry procedures
Composite fillings/Dental veneers
In composite fillings, a tooth coloured material that can be used to fill the cavities and is also applied as a layer (veneer) to cover the discolorations on the teeth. It can be used to correct the tooth broken due to a trauma and restore its normal shape and function without being noticed. Apart from requiring polishing at regular intervals, composite fillings have the advantages of good colour matching requiring only a single appointment and most importantly being economical.
A permanent solution to discoloration or minor tooth malalignment is ceramic dental veneers which is a more conservative approach than crowns. Dental veneers are tooth coloured thin shells which are attached to the front surface of teeth. They're often made from porcelain or resin-composite materials and are permanently bonded to your teeth. With our two directors Dr. Pratik Chheda and Dr. Radhika Chheda, both being Prosthodontists with keen interests in laminate veneers with research backing and international publication to their names, one can say that Procare Dental Clinic would easily be the cosmetic dental clinic in Mulund or for that matter Dental clinic in Mumbai to get Veneer treatment done. 
All Ceramic Crowns
Ceramic Crowns without any metal base have good colour matching ability, which along with good strength and fracture resistance of newer ceramics make them an exceptional treatment option for terribly broken front teeth or replacing missing tooth/teeth. With the available options being too many viz. Zirconia, emax, Leucite based; which may be monolithic or veneered, and the indications of each option being different you will need the experts in our team to give you an appropriate option suitable to your needs at the right cost. It also comes with a 10-15 year laboratory warranty which keeps you assured it's more than value for money.